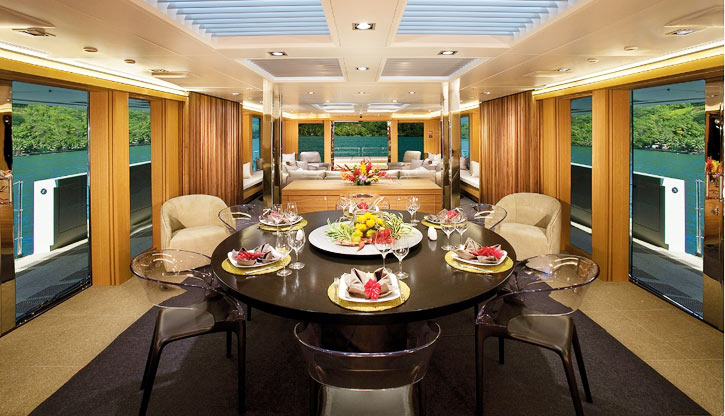 Contact us for all your yacht charter questions at:
USA: 1 954 892 5009 | UK: +44 (0)20 7193 5450
About StunningYachts
Luxury Charters, Personal Service
StunningYachts is the luxury affiliate of Boatbookings Yacht Charter, the world's leading yacht charter site. Our team of experienced brokers promises an exclusive service that organises all aspects of luxury yacht charters for corporate events or family holidays. With years of insider knowledge of the yachts, crews and destinations all around the world, we aim to attract clients who return year after year. 
Your Charter Consultants
Capucine de Vallee, Managing Director
Capucine grew up sailing Hobie Cats and J24s on Long Island, NY, and has always had a passion for the sea. She came to Boatbookings.com to follow this passion, after a successful career as Director at The Chemistry Club & The Climate Change Forum and several international banking jobs.
Capucine was promoted by the Board to Managing Director in July, 2012 and focuses the company on customer satisfaction, operational excellence, and a passion for matching the right yacht for the customer`s individual needs. She also manages many of the company's Partnerships and Business Development activities. More on Linked in.
Languages Spoken: English, French, Spanish and Portuguese
Lambros Tsolakis, Charter Director, Greece, Turkey, Croatia, Eastern Mediterranean, Caribbean

Lambros has been sailing all of his life around the Eastern Mediterranean and brings his passion for yachting to all of his clients. He is familiar inside out with the boats he recommends and knows the crews personally, so he can propose the right yacht for your specific needs. Lambros also specialises in sales with some of our high profile clients, as a broker for the purchase of yachts worldwide.
Lambros has 6 years experience in the yacht charter industry, and prior to Boatbookings.com he worked at one of the top Central Yacht Charter Agents in Greece. Lambros is a veteran of many regattas worldwide, and specializes in organizing charters on yachts in regattas and of course in his beloved Greek Isles!
Languages Spoken: English, Greek and French
Kevin Moir, Charter Director, Asia Pacific and Indian Ocean

Kevin, a Scot living in Singapore, has extensive experience in Thailand, Malaysia, Indonesia, Tahiti, Seychelles, the Maldives and other Asian and Indian Ocean yachting areas. Kevin has been in the region for many years and can find you the right yacht in all of the new and exciting charter areas of the Asia Pacific region.
Kevin launched our Asia/Pacific Business in 2007 and has developed probably the best selection of yachts and online guides in Southeast Asia, with a specialty in Thailand/Phuket and the fast growing Indian Ocean destinations.
Kevin is also a keen golfer and scuba diver, so he can offer advice on these activities if you want to add them to your sailing holiday or yacht cruise.
Languages Spoken: English
Cordelia Oakes-Ash, Charter Broker, French and Italian Riviera
Cordelia has always had a passion for the yachting industry, which led her to the South of France where she started her career as a chief stewardess, working on charter yachts for 8 years - her experience is invaluable for understanding the inter-workings of yacht, crew and charterer. During her time on the water, she experienced the Monaco grand Prix, the Cannes Film Festival, MIPIM and MIPCOM.
Having spent time with charter guests in the Mediterranean and Caribbean alike, she will be happy to find the right yacht for the vacation of your dreams.
Languages Spoken: English and French
Ben Sutton, Charter Broker & Marketing, West Mediterranean, Caribbean and Central America

Ben has spent time on cabin cruisers and small motorboats his whole life. Ben started as a Boatbookings intern, and has continued to work with us for both the Mediterranean and Caribbean charter high season. He has an affinity for finding exciting new charter yachts and suppliers in up and coming destinations. He has traveled throughout the South of France, Florida, Mexico and Caribbean in search of great new yachts. He also loves helping with last minute charters.
Languages Spoken: English, French and Spanish
Isabelle Walton-Masters, Global Financial Controller
Isabelle brings a wealth of experience in high-end 5-star hotel management to our team, since joining in 2013. She honed her skills at the prestigious Le Mas Candille in Mougins France and other prestigious hotels in London. Isabelle has travelled extensively across Europe as a consultant in hotel management, and brings the very best in customer service, as well as the financial know-how to smoothly fulfil her duties as Global Financial Controller.
Languages Spoken: English, French and German
Advisory Board Members
StunningYachts.com, as a member of the Boatbookings.com group works with an actives advisory board made up of key yachting, business and technology leaders who help us through the thousands of decisions required to grow the company into a world yachting leader. Members include:
- Rob Hersov - Chairman and CEO (and founder) of Invest Africa
- Brent Hoberman - Founder of lastminute.com, myDeco, and angel investor
- Brian May - Managing Director, Berthon Yachts
- Nick Pearch - Founding CEO of Dyson & Company and Private Equity Investor

We want to build a long relationship with you to provide the best yachting experiences possible. Please contact one of our team members and we'll get right to work!
Yacht Charter Destinations | About Luxury Yacht Charter